A week-ish ago I was surrounded by illustrators, designers, teachers, makers, and thinkers. I was at my first ICON, held this year at Austin, Texas.
Conferences can be overwhelming; there are talks to absorb, people to network with, selves to promote. The wonderful thing though, is that there is a kinship that comes from putting hundreds of people from the same field in one place. There is less time spent having to explain explain what exactly it is that you do, what is illustration really. We can cut straight to what matters, and talk about the world we occupy, and our roles as creatives and educators.
Days 1 & 2 / Educators Symposium + Workshops
Teachers and illustrators from North America and Europe presented research papers, new teaching methodologies, ways of catalyzing students, and examining trends in the industry. I skipped all the workshops, except Whitney Sherman's Playing with Silhouettes (which I was assisting), and stayed to listen to all the speakers at the symposium.
Engagement was key. Whether it is with the communities around them, the creative industry itself, or with the more academic and critical aspects of illustration, students are being pushed to look outward and interact with the world during the period of their education, rather than after.
There was also a general call for the spirit of questioning, and no one said it better than Sabrina Scott. You know you are in good company, when the other person is able to accurately articulate all the thoughts in your head. As illustrators (and designers, artists) we have the power to affect change and thought through what we make. It is crucial that we are aware, responsible and accountable. What Sabrina spoke of is not new, but she backed it up with data and statistics from the last 7 years of award winning American illustration. Was I excited about finding someone who wanted to discuss the intersection between illustration and gender? Goddamn yes.
One other presentation stood out for me at the educators Symposium - The Live Comics Project, by Joann Purcell and Martha Newbigging from Seneca College. These two educators created a scaffolded elective, that enabled their students to use comics as a tool to think and understand critically. Illustrators after my own heart. Over multiple sessions, their students read books, essays and the news, and drew comics live at an exhibition of Emily Carr's paintings of First Nations sculptures, and in the process questioned and processed their understanding of indigenous art, appropriation, and curation. They followed this event with another live comics session at a fundraiser for Syrian refugees, again voicing critique on the event itself through their work. Joann was kind enough to give me a copy of the book they compiled from this second live comics session.
All of this was of course, pre-conference. Day 2 ended with the actual opening ceremonies, and we could finally see how many people were actually attending ICON. Dancers from Ballet Folklorico took the stage first, followed by Esther Pearl Watson, president of ICON. The evening closed with William Joyce taking everyone through his journey of wanting to be a 'maker-upper' to becoming THE maker-upper.
 
Days 3 & 4 / Mainstage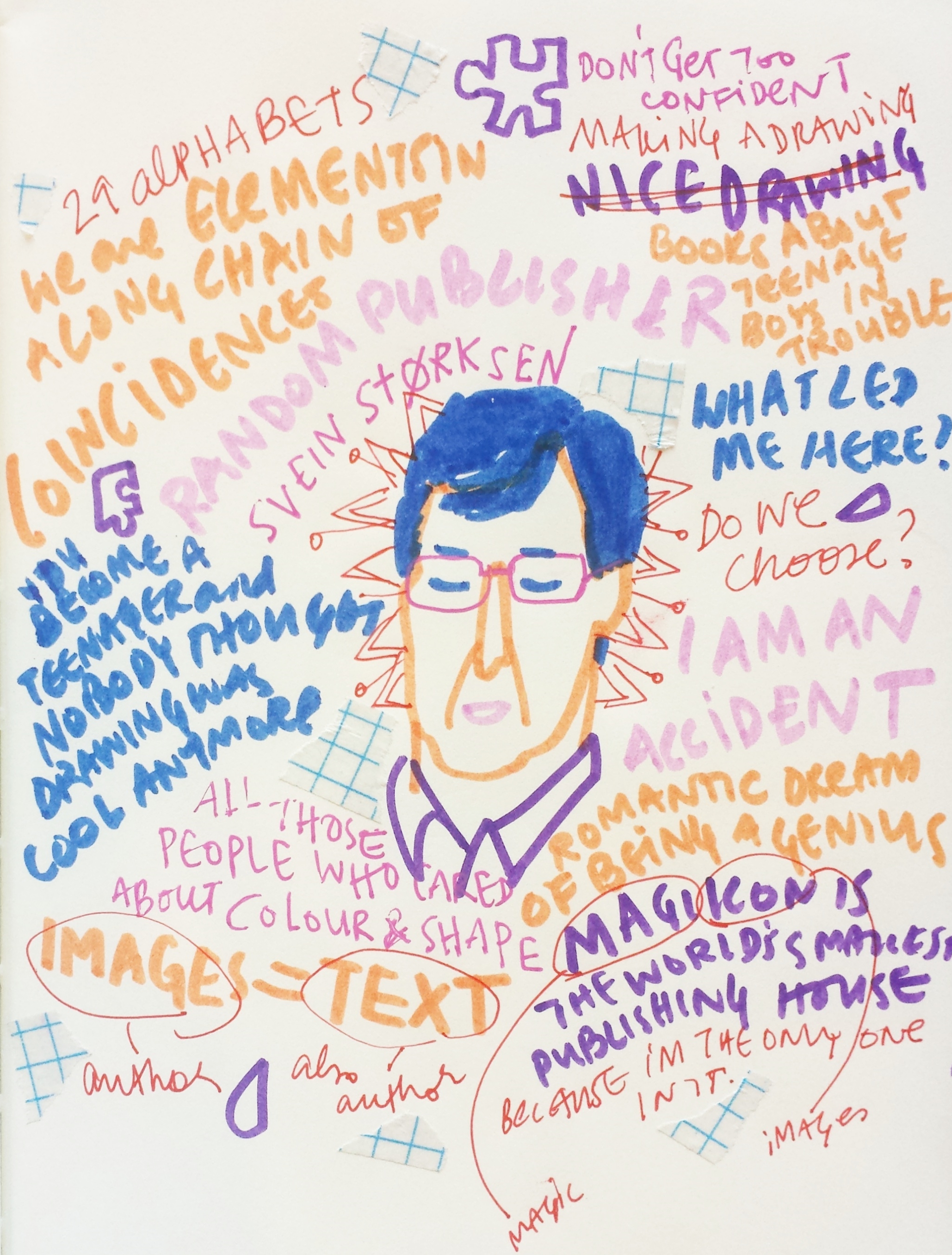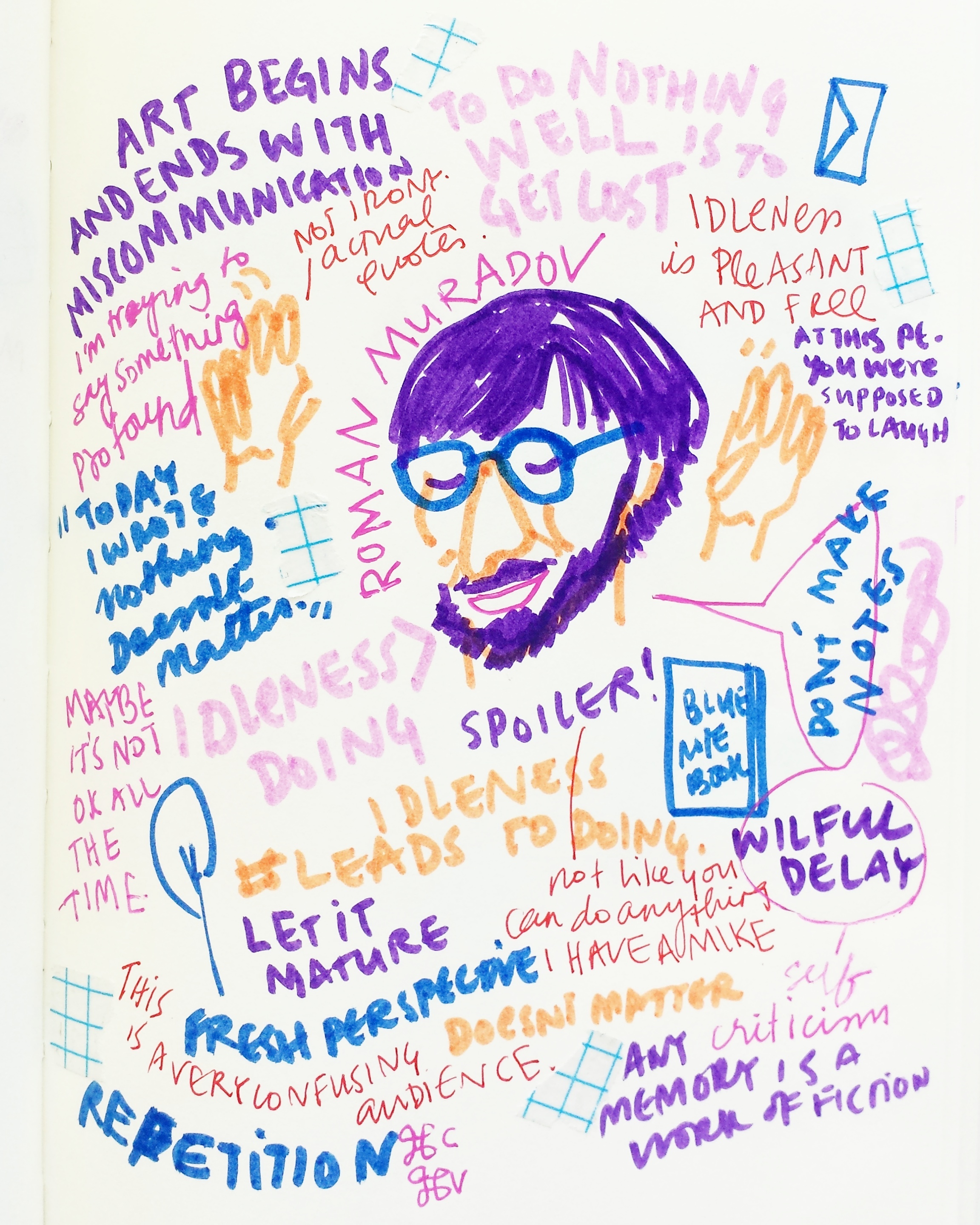 Every other talk was punctuated by panel discussions, some of the more honest segments of the conference. Jessica Hische, on a panel with Julia Rothman and Melinda Beck, spoke at length about managing a business, and addressed the unfair double standards that women in the field have to deal with constantly. Susie Cagle, Darryl Holiday, and Jamie Hibdon shared their experiences of being visual journalists, using live drawing and comics as a medium for reportage. The only section that I was disappointed with was A Global Conversation on Political Satire. Having one European on a panel of white men does not make it a global conversation. The sanest voice I heard during the discussion was one woman in the audience who stood up and reminded everyone to be aware of who we are stepping on in the pursuit of free speech and freedom of expression.
Anita Kunz and James Victore book-ended the third day of the conference, between them covering everything all the other talks would say. The beautiful (and expected) thing about conferences is that you are at the least possible distance from your heroes. This time, though, I also met peers who inspired me, who have set the bar in terms of what we need to expect of ourselves as a newer generation of creatives and educators. Antoinette Carroll and Kayla E. spoke beautifully about empathy and action. The short version of these four talks? DO. And BE.
Make work, make work that matters, and that makes you feel committed to it. Be the person who says something through their work, own it and be accountable for what you make. Be courageous, move through fear and discomfort.
A fitting end for ICON9 was Eleanor Davis, who walked the talk and made her presentation a moving narrative on creation and destruction. Charlene Yi and Jet Elfman were the closing acts, with bittersweet stories, that they read and sang to the audience. No amount of notemaking on my part would capture both these storytelling experiences. They were the tallest tales; the evolving stage design by Jason Holley and his team comes on their heels for a close second.
Each ICON tends to have a different voice, I was told. Understandable, since the industry itself is constantly adapting and changing, reflecting in the chosen speakers and topics of interest. I am glad that this was my first ICON, where I was able to relate to and connect with so many of the presenters on a level that I might not have been able to before.
Time to jump back into the real world now. Like James Victore said, time to "Let go Kitty".
Many thanks to Whitney Sherman for the opportunity to attend ICON9!